Diamcrete appreciates the quality of parquet flooring and the importance of polishing to maintain its distinctive and natural beauty. Parquet is usually made of oak, cherry, walnut, pine and maple woods and although it was first used in the 1600's it is still a popular choice of today.
Parquet is different than other kinds of flooring materials because it is very durable, lasts for years and is unique. It is important that maintenance is upheld to get the most from your floor especially on high traffic floors.
Once the polishing process is complete we offer a range of professional finishes such as lacquers and hard wax oils. Some people might call lacquer floor varnish, but in professional terms, varnish is only one type of wood floor seal.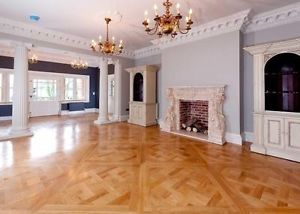 Average maintenance cycle:
A part acrylic seal should last 3+ years.
A high traffic seal should last 5+ years.
An oil will need touching up once every year, if not sooner.
These timings obviously depend on the volume of traffic and the type of shoes worn on the floor. In domestic environments you might want to consider making the house a shoe-free zone to prolong floor life.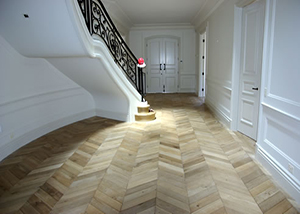 The seal that is applied is the most important aspect of the complete sanding process and commercial seals are more durable than those used in the domestic environment. Diamcrete only use high quality lacquers to protect, offering a stain resistant hard-wearing finish that should, with the correct maintenance, last years. Hardwax oils deliver a more traditional floor finish that preserve the natural appeal of the wood whilst increasing its' durability as well making it water and dirt resistance. Many oils are available: matt, satin-matt or semi-matt finishes. The main benefit being that the floors coated can be patch restored when damaged whereas lacquered floors require complete re-sanding and finishing. Commonly two coats are required and we offer a range of coloured oils.
Please contact us for a free quotation:
Tel: 07949 093 480
Email: martyn@diamcrete.co.uk