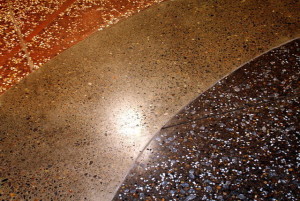 With over 15 years' experience of polishing concrete floors we are confident that we can guide you through all stages from preparation to selecting your final polish requirements. Upon quotation we will be able to discuss your requirements and advise you on the best polishing process to suit your specific needs.
Stages of grinding & polishing:
Ground concrete (20 to 100 Grit grinding)
Honed concrete (200 to 400 Grit polishing)
Low Sheen Polishing (400 to 800 Grit polishing)
High Shine Polishing (800 to 3000 Grit polishing)
A polished concrete floor is a concrete surface that has been diamond ground and treated with a chemical densifier before progressively polishing with finer diamond polishing tools. The diamond grinding tools are typically classified in grit levels of diamonds and polishing pads which are explicitly designed for polishing concrete. Naturally, concrete is not considered polished before 400 grit which is known as honed concrete, polished concrete is usually completed to either the 800, 1500, or 3000 grit level depending on the shine and reflection required.
To put it simply the process of concrete polishing is very comparable to sanding rough wood to a smooth and consistent surface.
Why use polished concrete?
Commercial Industries favour polished concrete flooring as polished concrete is considered a great sustainable & energy efficient flooring option due to most buildings having an existing concrete floor in place that can be diamond polished. Polishing an existing concrete slab eradicates the cost, energy and material consumed by applying a floor covering or coating.
Polished concrete floors are low-maintenance, as they are more durable and easier to clean than many other flooring options. By using additional stain protection you can create a stable non slip work surface. Polished concrete surfaces prevent dust mites and other allergen problems associated with other flooring finishes. Evidence suggests polished concrete floors high reflectivity reduces the need for high energy lighting by up to 30% due to the light reflectance from the polished cement finish. Polished concrete flooring is hard wearing and will not chip or dent easily like softer surfaces such as timber, tiles, vinyl or resin floors.
Please contact us for a free quotation:
Tel: 07949 093 480
Email: martyn@diamcrete.co.uk